*This news release was originally published and distributed by the Office of Mayor Eric Garcetti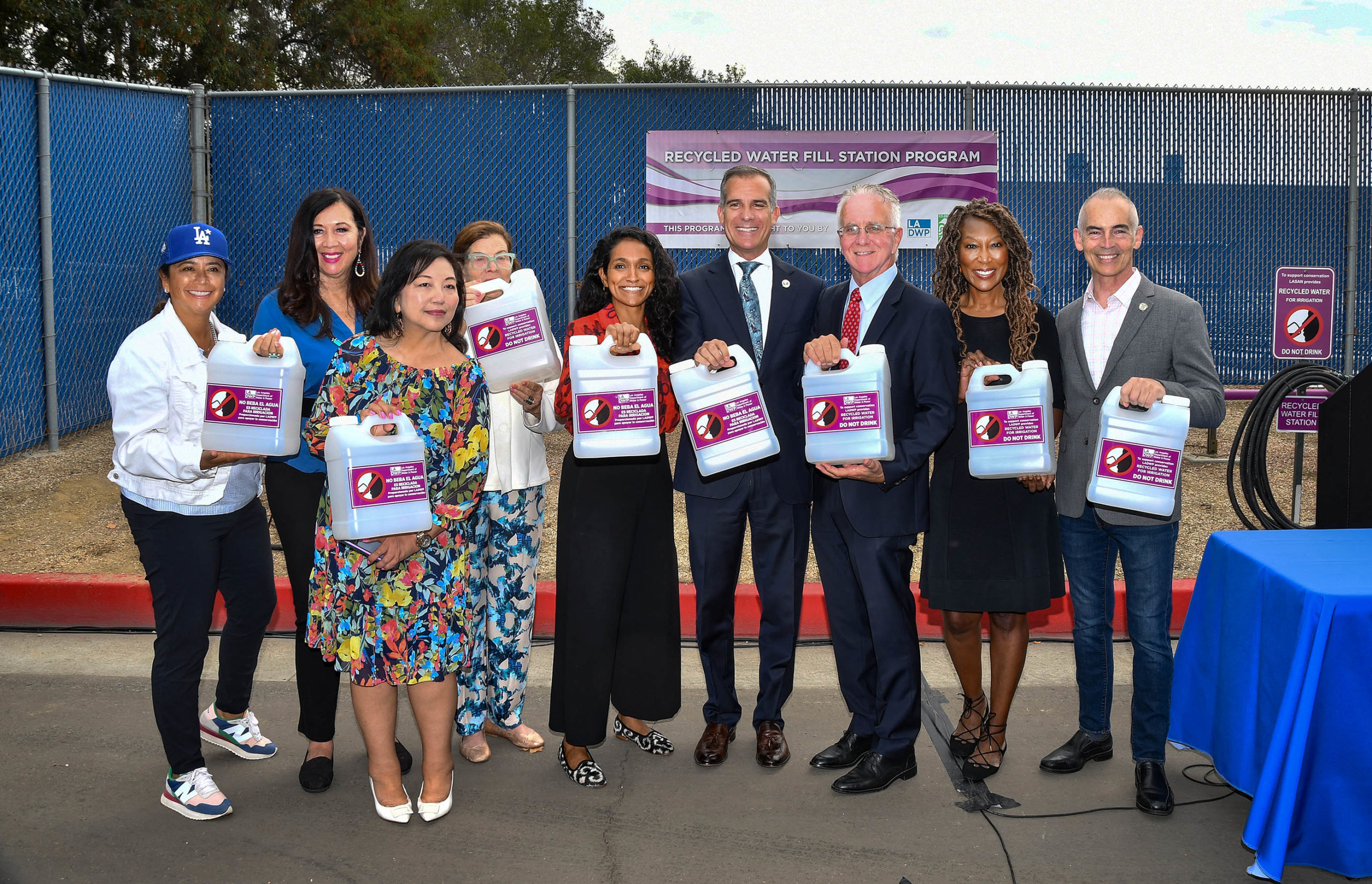 Photo credit: LADWP
LOS ANGELES — Mayor Eric Garcetti today announced the re-opening of two free recycled water fill stations, where Los Angeles Department of Water and Power (LADWP) customers can now fill empty water containers with up to 300 gallons of recycled water for irrigation.
"As we approach the hottest days of the year, we need to help Angelenos build on recent reductions to conserve even more – and that means providing real solutions, alternatives, and incentives to cut back on their water use," said Mayor Garcetti. "These recycled water stations will help lift the burden of recent restrictions and provide our customers with a sustainable way to keep up on outdoor watering."
The two refill stations, which are a collaboration between LADWP and the Los Angeles Bureau of Sanitation, will be located at the Los Angeles-Glendale Water Reclamation Plant and the LA Zoo parking lot. To be eligible for the program, Angelenos must be an active LADWP customer, complete and sign an application form, and complete a brief training class available onsite. With outdoor watering restricted from three days a week to two, LADWP customers will be able to utilize the recycled refill stations for watering on restricted days.
With the hottest month of the year still to come, the recycled water stations are part of the City's effort to help Angelenos continue conservation efforts that helped Los Angeles achieve an all-time low in water use for June. All watering continues to be limited to Mondays and Fridays for LADWP customers with street addresses ending in odd numbers, and Thursdays and Sundays for all customers with addresses ending in even numbers.
Customers must bring their own water containers when picking up the recycled water. The Los Angeles-Glendale Water Reclamation Plant will be open for pick up every Thursday, Friday, and Saturday from 8:00 AM to 3:00 PM, and the LA Zoo parking lot locations will be open every Monday from 8:00 AM to 2:00 PM starting August 1. Fill stations will be closed on rainy days and City holidays. For more information about the program and a list of recommended water containers, customers can visit ladwp.com/rwfs.
Since Mayor Garcetti took office in 2013, LADWP customers have saved 257 billion gallons of water – enough water to fill the LA Coliseum over 913 times, and nearly double the amount of water LADWP uses in an entire year. LADWP has invested hundreds of millions in its rebate programs, and in addition to the increases of the washers and toilets rebate earlier this year, is continuing to look for ways to expand its current programs. For the past decade, LADWP's turf replacement rebate program has helped Angelenos replace over 51.9 million square feet of turf, which equates to enough water savings to supply 27,500 homes per year.
"The City of Los Angeles is a leader in conservation, and Angelenos themselves care deeply about sustainability," said Councilmember Mitch O'Farrell, the chair of the City Council's Energy, Climate Change, Environmental Justice, and L.A. River committee. "Recycled water is the definition of conservation. By offsetting demand for precious drinking water, this program will make recycled water more accessible for everyday Angelenos. I'm very excited to host one of our recycled water fill stations in the 13th District."
"With longer droughts and hotter summers, being able to recycle our water for reuse is critical," said Councilmember Nithya Raman. "This program is helping to preserve precious drinking water for Angelenos, and I look forward to its expansion into the San Fernando Valley!"
"Angelenos are doing their part to conserve water during this historic drought and we want our customers to know that we are working together with our City partners to offer more creative ways to save", said Cynthia McClain-Hill, President of the Los Angeles Board of Water and Power Commissioners. "By making free recycled water available this summer we can give our much-needed trees the water they need to thrive, while continuing to save the drop and help our customers save on their water bills."
"Tackling big, intersectional issues like climate change takes transformational approaches," said Board of Public Works Commissioner Susana Reyes, "Projects like this fill station highlight how so much is possible through partnership and collaboration across all City Departments."
###