LOS ANGELES (May 2, 2022) – Mayor Eric Garcetti, 12th District Councilmember John Lee, State Water Resources Control Board member Sean Maguire joined the Los Angeles Department of Water and Power (LADWP) to dedicate the newly completed Los Angeles Reservoir Ultraviolet Disinfection Plant (LARUVDP) in the San Fernando Valley.
This is LADWP's second UV disinfection facility and the last stop in LADWP's complex network of water treatment processes at the Los Angeles Aqueduct Filtration Plant.
"In Los Angeles we are taking action to become more resilient and prepared for the drought years that are happening with greater frequency due to climate change," said Mayor Eric Garcetti. "This state-of-the-art facility will ensure we continue delivering high quality water as our state experiences a third consecutive year of drought. Los Angeles is ready to tackle this challenge head-on thanks to the tireless work and leadership of our Department of Water and Power."
"The LA Reservoir UV Disinfection Plant Project is a critical step in ensuring that the water the Los Angeles Aqueduct provides to our region is clean and treated to the highest degree," said 12th District Councilmember John Lee.
"Not many people think about the hard work that goes into getting high quality tap water into their home. Today, we get a chance to see part of that process, up close and personal. LADWP continues to demonstrate its dedication to ensuring the highest water quality for Angelenos with projects like this LA Reservoir Ultraviolet Disinfection Plant," said 13th District Councilmember Mitch O'Farrell.
The LARUVDP can treat up to 650 million gallons of water per day – enough to fill the LA Memorial Coliseum more than twice over.
This second UV facility supplements the existing Dr. Pankaj Parekh Ultraviolet Disinfection Facility which treats water with ultraviolet light that has already undergone several treatments– including Fluoridation, Ozonation, and filtration– before it enters the LA Reservoir. The new UV plant treats the water with ultraviolet light once again, at the outlet of the Los Angeles Reservoir, before it enters LA's water distribution pipes that transport water to LA's homes and businesses.
"All Angelenos should be confident that the water that comes out of the faucets, has been put through rigorous treatment, testing, and monitoring," said Board of Water and Power Commissioner Nicole Neeman Brady. "Today's dedication of this UV facility is a testament to the countless talented and committed LADWP employees who worked over the span of 25 years to complete these numerous water quality improvements."
"UV treatment is one of the most cost-effective methods available and has been identified by the U.S. EPA as one of the most effective purification methods for water treatment," said Anselmo Collins, Senior Assistant General Manager of the Water System for LADWP. "In combination with our Dr. Pankaj Parekh Ultraviolet Disinfection Facility and the deployment of nearly 96 million shade balls on the surface of the Los Angeles Reservoir, this second LA Reservoir UV plant is just the latest investment we are making in the water we deliver to our customers."
The approximately $123 million project was funded by two Safe Drinking Water State Revolving Fund awards. Based on the bond rate available at the time of project inception the estimated total interest savings for LADWP ratepayers, is close to $16.5 million.
"The Los Angeles Reservoir Ultraviolet Light Treatment Plant is a prime example of how we can leverage innovation, technology and strong funding partnerships to build infrastructure needed to secure a resilient water future," said Sean Maguire, board member of the State Water Resources Control Board.  "As the drought continues and climate change intensifies, this facility will help ensure a safe drinking water supply for millions of people that rely on this facility every day.  Last year's historic federal infrastructure dollars and $5.2 billion in state water funding mean that we are well positioned to support many more critical projects like this that invest in our water infrastructure."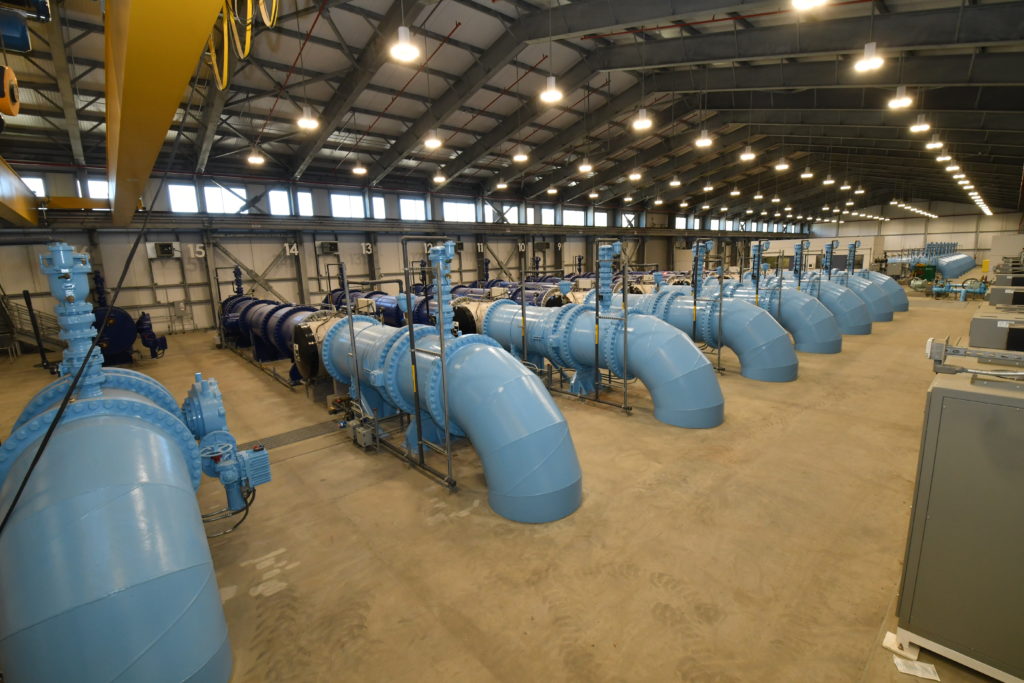 The LARUVDP project complies with the requirements of the U.S. EPA Long Term 2 Enhanced Surface Water Treatment (LT2 Rule), which protects drinking water in open-air facilities from microbiological contamination, and the Stage 2 Disinfectants and Disinfection Byproducts Rule, which addresses risks from microbial pathogens and disinfectant byproducts. Per regulation requirements, open reservoirs must be either covered, removed from service, or incorporate additional treatment of water before it enters the distribution system
The LARUVDP consists of a 30,000 square-foot structure that houses 15 UV reactors, intricate controls and mechanical systems, and uninterruptable power supply units. The project also features over 50 large valves with varying sizes between 32 to 144 inches, a 3-leg flow control station, five seismic resiliency vaults, and one 2,500-kilowatt diesel generator.
LADWP is committed to achieving the highest level of water quality and has invested more than $1.5 billion in 34 major projects for the reliability and safety of L.A.'s drinking water infrastructure.
Past Water Quality Improvement Projects:
5 Reservoirs Taken out of Service

2 New reservoirs

2 New underground tanks

3 Floating Covers

2 UV Plants

Millions of shade balls deployed

Multiple Treatment upgrades and miles of new pipe
The LADWP water system serves almost 4 million people through 700,000 service connections within the City of Los Angeles and portions of Malibu, Kagel Canyon, West Hollywood, Culver City, and Universal City. Click here to learn more about LADWP Water Quality Improvement Projects.
###