LOS ANGELES (June 19, 2023) – Following the Los Angeles City Council's vote to make Juneteenth a permanent paid holiday for city workers, the Los Angeles Department of Water and Power (LADWP) unveiled a new photo exhibit at the John Ferraro Building in Downtown Los Angeles, that spotlights the imagery and important milestones of the Black experience in Los Angeles and the United States at large. "And Still We Rise!" was introduced at an employee event on June 14, and members of the public are invited to view the exhibit throughout the summer.
"Right now, everything is controversial, which is why it is so important that we take the time to share and understand our history, particularly in the face of those who would bury, dismiss, distort or erase it," said Cynthia McClain-Hill, President of the Board of Water and Power Commissioners. "What you see in the exhibit is the story of struggle, the story of striving, the story of hope, the story of triumph and setback – told in images, many that were developed by artists here in the city of Los Angeles."
Commissioned by LADWP's Office of Diversity, Equity and Inclusion and curated by Jill Moniz, the exhibit is organized through a timeline structure, which features historic events throughout the history of the United States and Los Angeles. Highlights include President Abraham Lincoln issuing the Emancipation Proclamation, Major General Gordon Granger enforcing the manumission of Texas's enslaved population, Los Angeles's first Black Mayor Tom Bradley, first Black woman to travel to space Mae Jemison, and the first Black woman to be elected Mayor in Los Angeles Karen Bass.
Showcased for the first time at an unveiling last week, the event featured McClain-Hill, LADWP General Manager and Chief Engineer Martin L. Adams and LADWP Senior Assistant General Manager of Diversity, Equity and Inclusion Gregory R. Reed, and was hosted by radio personality Dominique DiPrima with music from Anthony "Jawan" McEastland & Singers, "Lift Every Voice" and "The Star Spangled Banner."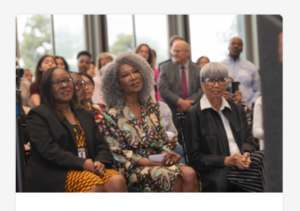 McClain-Hill also unveiled a photograph of Tennessee House of Representative members, Justin Jones and Justin Pearson, who were expelled from the legislature for protesting gun violence and calling on the state legislators to pass stricter gun control reforms, in response to gun violence at a Nashville school resulting in the loss of three children and three adults.
Speaking during the event, Adams noted "celebrating Juneteenth is a way to embrace our City's rich cultural diversity and to say to each of our employees that you are valued for who you are and for the communities you represent. We are also saying to our customers that we value their lived experiences and share in the celebration of their cultural traditions."
The "And Still We Rise!" exhibit is located at the John Ferraro Building at 111 N. Hope Street, and is open during regular business hours, from 9:00am-4:00pm. It will be on display through August.
###